Amused
3

December 20th, 2009 + 4:12 PM
·

Amused
Recorded live. Poor Quality. Poor Vocals. Enjoy

if words fail and thoughts play and dreams stay with
like eating magic mushrooms turning deep grey colors into blue
rice and raw fish on the dish get sweetest tastes like the flue
this sickness might turn out to be part of a cure

your red lips
in your black dress
your blond hair
and your blue eyes
Sophie I really want to be with you
just talk a little more
about progress
and devoutness
future mistakes
and past regrets
personal forgiveness
and business plan
and our heart's emptiness

...
deadly as carbon monoxide
breathing more and more
fills up my lungs fills up my veins
until I burned inside and there's nothing more like
this beautiful picture

...
fall apart
just to start again
5

July 19th, 2006 + 7:07 PM
·

Amused
Ok here's my interpretation of Enjoy the Silence by Depeche Mode... I only took out a little part of the melody, but it's not exactly the same and the lyrics and the rest of the song are different... so I think it's not a cover - maybe not battle material but I think it's worth that you give it a look.

Lyrics are

Silence

the sky is rolling (are)
crimson clouds approach (you)
the wind left sand in the remains (are)
little flower on the wall closed its blossom (you)
as it knows the time has come (afraid)

and the world still rushes through outer space
turns around around to hide its ugly face
little raindrops fall silently on the ground
as the last human being takes a sip
with bitter acid taste
(violence - silence)
4

June 26th, 2006 + 8:06 AM
·

Amused
Island is the German name for Iceland... and Island in English has another meaning... but I think the title fits no matter how you twist it.

This is a place for an empty space
so wipe away the tears from your face
to save your wandering through the haze
This is a place for an empty space

I don't care what the others say
I won't fold my hands to pray
you may cry when I'm far away
I don't care what the others say

On steaming ground is where you go
liquid soil down below
walking on air
under a burning sky
five friends
for a life

It's in your soul the cry for hope
psychotropics in a snowstorm globe
where dragon and spirits spread their lopes
It's in your soul the cry for hope

Choosing you wasn't sane
but who am I to blame?
solitude is not a shame
Choosing you isn't sane

On steaming ground is where you go
liquid soil down below
walking on air
under a burning sky
five friends
for a life
18

May 28th, 2006 + 6:05 AM
·

Amused
First I would like to thank you all for reviewing and voting my songs - I always try to give it back...

This is another project with Puppet (Lyrics, Vocals, Drums).
So enjoy another part of the Dark Opera ;-)

LYRICS:

to seek...
what it is like
to seek...
what it feels like...

so precious...
so couragious...

I wish I could say what this moment feels like when I saw you today doing alright

I'm awake now
feeling safe now
watching space between shadows
like the girl with the red rose
in her hair, she is dancing
to the rhythm of answering...

alive and awake
in a dream
I always knew
it always came clean
before the end of all things good
let's kiss away the aches forgood

- old thoughts of fear . . . don't make a sound
- up and down that spiral . . . twice around
- wash out the skin from . . . the venom spewed
- to twist the insides out . . . it's nothing new

so precious...
so couragious...
to seek what it's like...
to seek what it feels like... with you

... wish I knew
9

May 16th, 2006 + 4:05 PM
·

Amused
I recorded this Song altogether in two days, I was very concentrated on this one... Maybe it's because of it's background.
I think it's my best song so far. So please let me know what you think.... Most of it is instrumental. It's inspired by some really cool disco nights I had in the past few weeks...
and by a girl... it's not that I have a chance but it's something and hey isn't that anything.
It's a blend of different music influences.... I call it a EBM-Rock-Ballad
Lyrics
I inhumed my former ire
Garden Eden is closed that's for sure
The funeral occurred on fertile sand
Forget my nots will seam this land again
your existence is my cure
you have the power I desire
Lying in a blooming meadow
Adore - your - inherent - beauty - glow
Alias:
Amused

Status: Offline
Threads:
21
Posts:
72
Songs:
21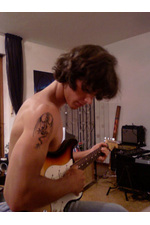 Joined: July 25th, 2005
Last login: December 09th, 2014
My Messengers
| | |
| --- | --- |
| AIM: | n/a |
| ICQ: | n/a |
| Skype: | n/a |